Biortus Delivering hERG Protein and Cryo-EM Structures
---
As part of the drug safety assessment practice, ion channels are one of the key family proteins under tight scrutiny with almost every drug candidate. Unfortunately, as of now the effect of drug candidates on ion channels are only being evaluated by affinity screening, and medicinal chemists can only rely on empirical estimates to modify the drug candidate if a candidate has undesirable affinity to certain ion channels. To help medicinal chemists improve the safety mitigation process, Biortus is building toolboxes for structure-guided affinity design-out on a panel of ion channels as part of Biortus's IonChannelSuite® Campaign.
Figure 1. Recombinant hERG: (A) Size exclusion chromatography, and (B) SDS-PAGE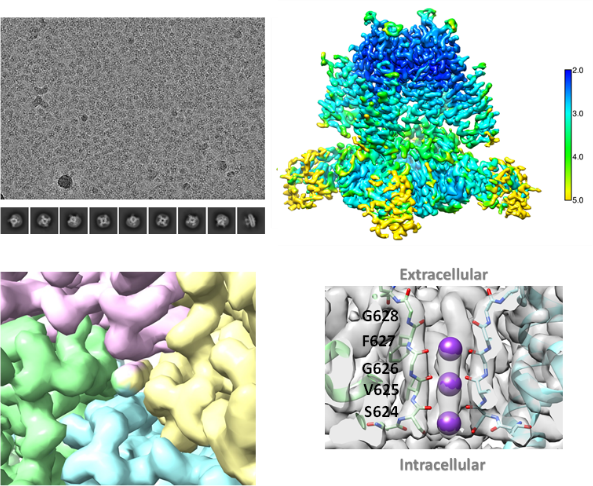 Figure 2. Cryo-EM structure of recombinant hERG: (A). Cryo-EM image and 2D classification of hERG, (B). Local resolution estimation, (C). Density in the central cavity of core region, (D). Close-up views of binding mode of the three potassium ions.
The first example of the panel is hERG, a potassium channel directly involved in cardiovascular toxicity for some drug candidates [1,2]. Biortus's team has established a robust hERG expression and purification process and delivered large quantity of pure and stable hERG protein sample for activity profiling and structural biology studies (Fig. 1). Taking advantage of its state-of-the-art cryo-EM facility, Biortus's cryo-EM team has solved hERG structure to 2.5Å resolution (Fig. 2) [3, 4, 5, 6]. The complete package of protein to assay to structure on hERG and other ion channels prepared by Biortus's team presents powerful toolboxes to mitigate drug candidates' safety concerns.
[1] Heijman, Jordi, et al. "Cardiac safety assays." Current opinion in pharmacology 15 (2014): 16-21.
[2] Sanguinetti, Michael C., and Martin Tristani-Firouzi. "hERG potassium channels and cardiac arrhythmia." Nature 440.7083 (2006): 463-469.
[3] Garrido, Amanda, et al. "hERG toxicity assessment: Useful guidelines for drug design." European Journal of Medicinal Chemistry 195 (2020): 112290.
[4] Zhou, S. B., Jiang Wang, and Hong Liu. "Lead compound optimization strategy (5)–reducing the hERG cardiac toxicity in drug development." Yao xue xue bao= Acta Pharmaceutica Sinica 51.10 (2016): 1530-1539.
[5] Wang, Weiwei, and Roderick MacKinnon. "Cryo-EM structure of the open human ether-à-go-go-related K+ channel hERG." Cell 169.3 (2017): 422-430.
[6] Asai, Tatsuki, et al. "Cryo-EM structure of K+-bound hERG channel complexed with the blocker astemizole." Structure 29.3 (2021): 203-212.
---